Come Halloween, New York City sees millions of masked New Yorkers out on the streets. With the colorful Annual Halloween Parade happening to the packed subway trains, Or the tipsy youth to the youthful oldies, one never gets tired of being amused by one of the best Halloween experiences in the World. I have been fortunate enough to have witnessed this festive day twice, here in New York now. Last year, I was so mesmerized by this unique experience that I ended up committing myself just to the same. Guilty ! This year though...I picked up my camera and did what i felt i should have done last year too. Simple portraits of simple people veiled in numerous characters - weird, different, colorful, witty and amazing.
Let's Drink all the beers.
Starting work with some good craft beers is not a bad idea at times; Especially on occasions this vibrant. Guilty again !
I had a childhood friend visiting me for this weekend from India. We both gulped some Ithaca Flower Power IPA's at Mugs Ale House, Williamsburg. Shoot, there on. Subways, Brooklyn, Union Square, Mcdougal / Bleecker St. and finally Meatpacking district are the places where I made all of the portraits. Obviously though, we drank at possibly each neighborhood we stopped in. A beer or two..some shoot...A beer or two...some shoot...A beer or...!
Chanced upon these exciting people at the Mugs Ale House.
Spirit of New York
There are times when I really think if age is any bar...Hell No ! It's not ! I have always met people throughout the globe who have an undying spirit of life - a never-ending youthfulness. I admire it. New York somehow has a lot of such people.
I met such people this Halloween night too. Apart from just the age factor, I met some creative people, like a girl in 'Autumn / Fall' costume. Hats off to the Spirit of New York...Spirit of New Yorkers.
Been quite some beers down, the city seemed ever so energetic. In fact, it indeed was.
I photographed some faces in the L train. Largely people by now were tipsy and super cool about being photographed. Wait...Didn't I say, Beers are always good ? People were going bonkers in West Village and Meatpacking. The roads were full of pedestrians - bar hopping. Selfies taken anywhere you look and people passing out at every corner of this part of NYC.
The night had been so eventful already. My friend and I, we joined more of my friends at Christopher Street.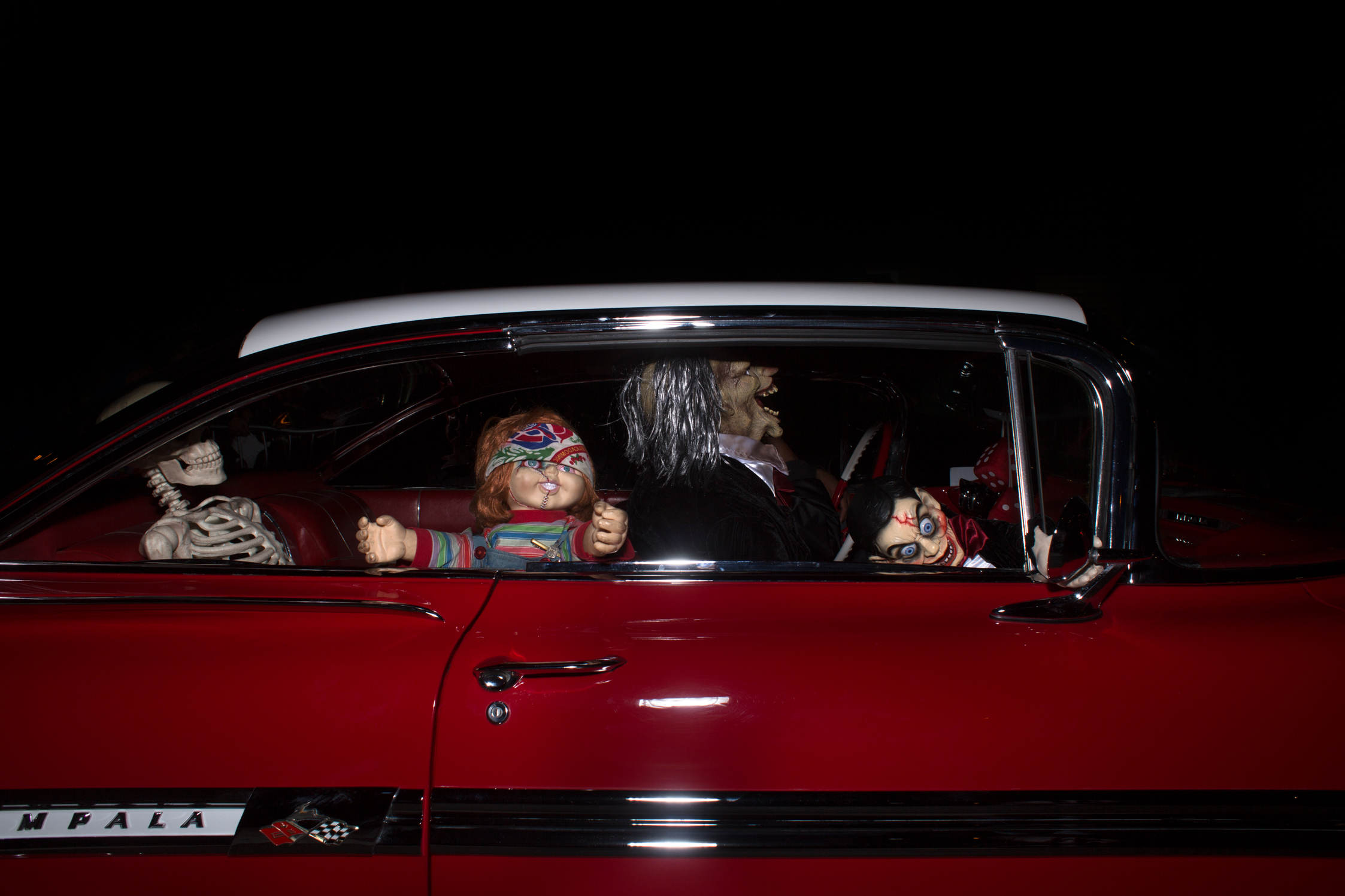 A night to remember. Happy Halloween !
Back to home @ 5am, Crashed to bed. Next (late) morning, reviewing all the previous night's photos, sipping my coffee, I see all the masked craziness I experienced; All the wonderful people I met, how may ever veiled.
I wonder...Are we all, Humans...as it is not masked ?