Winner (2nd) | Latitude Life APS | International Photography Competition 2019
Interview with "Polka Cafe"
Article: Postcards "Sunday Guardian"
4 February 2018
Article: "Sunday Guardian"
28 January 2018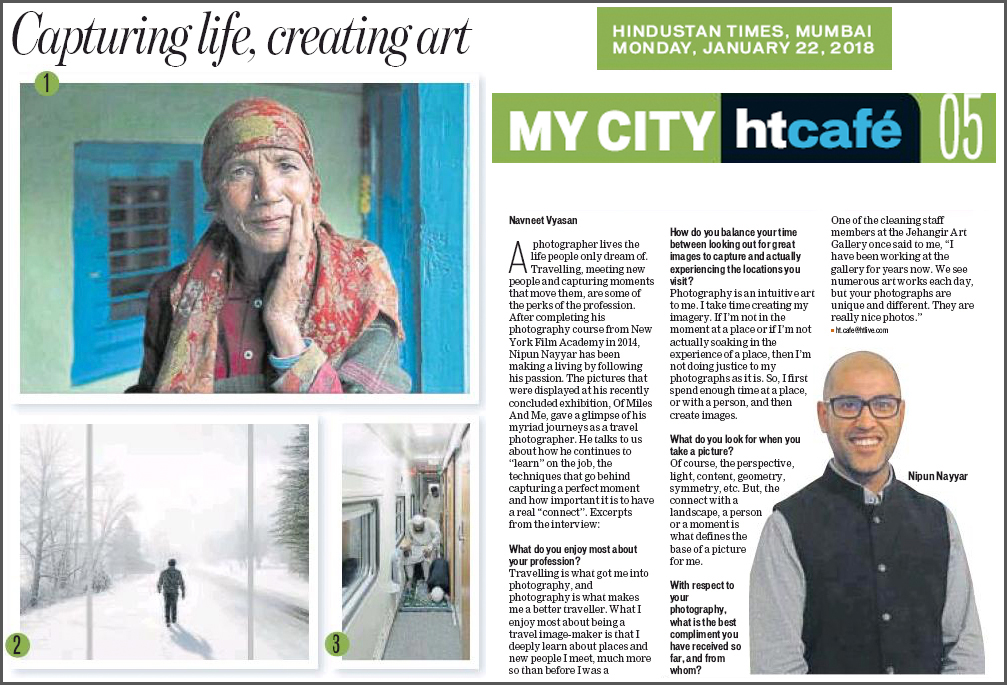 Interview with "Hindustan Times"
HT Cafe / Mumbai / 22 January, 2018
Interview with "The Week"
"Whether it is random stays in villages in Himachal Pradesh, Dominican Republic or Tasmania, the colours, sights and pregnant sounds all seem to come alive with every photograph."
Press: Elle Decor Magazine
Fancy yourself an art connoisseur? Then you can't miss these 4 shows - by Team ELLE DECOR
Interview with travellingcamera.com
In the Spotlight - Nipun Nayyar, a Travel photographer sharing soul-enriching miles he explores
International Photography Workshop in Pakistan
Travel photography workshops & artist talks in Karachi and Lahore, Pakistan with Talha Ghouri Photography School | May & June 2016
Press: Published in Sunday Guardian
Sunday Guardian | January 29, 2017
Interview with Siftr | medium
Inspiration Corner — Nipun Nayyar | Today we have with us Nipun Nayyar, who left his family business to pursue his photography dream. After completing a 1-year photography course from New York Film Academy, he is presently pursuing a photography internship with Sotheby's, New York. With Ansel Adams and Steve McCurry as inspirations, Nipun is on his way to make it big in the domain he really loves — Photography...
Interview with New York Film Academy
While currently based in Jaipur, India, New York Film Academy Photography graduate Nipun Nayyar has been gathering a mix of landscapes, portraiture and street photography from his travels in the US, India, Pakistan, Nepal and the Dominican Republic. Now, his photographs will be on display in his own solo exhibition called "Of Miles and Me" that will take place at the India Habitat Center in New Delhi from January 1 – 5, 2017.....